1250KVA Cummins KTA50-G3 as the "K" series has many advantages like its price.its quality.its funtion etc. The KTA50-G3 produced in China is designed for the common usage, mainly be used in project item to offer power. Besides, as the same power like other brands, its price is more competitive and its funtion is great. Besides, you can enjoy the global after-service.
The following is the detailed picture of this product: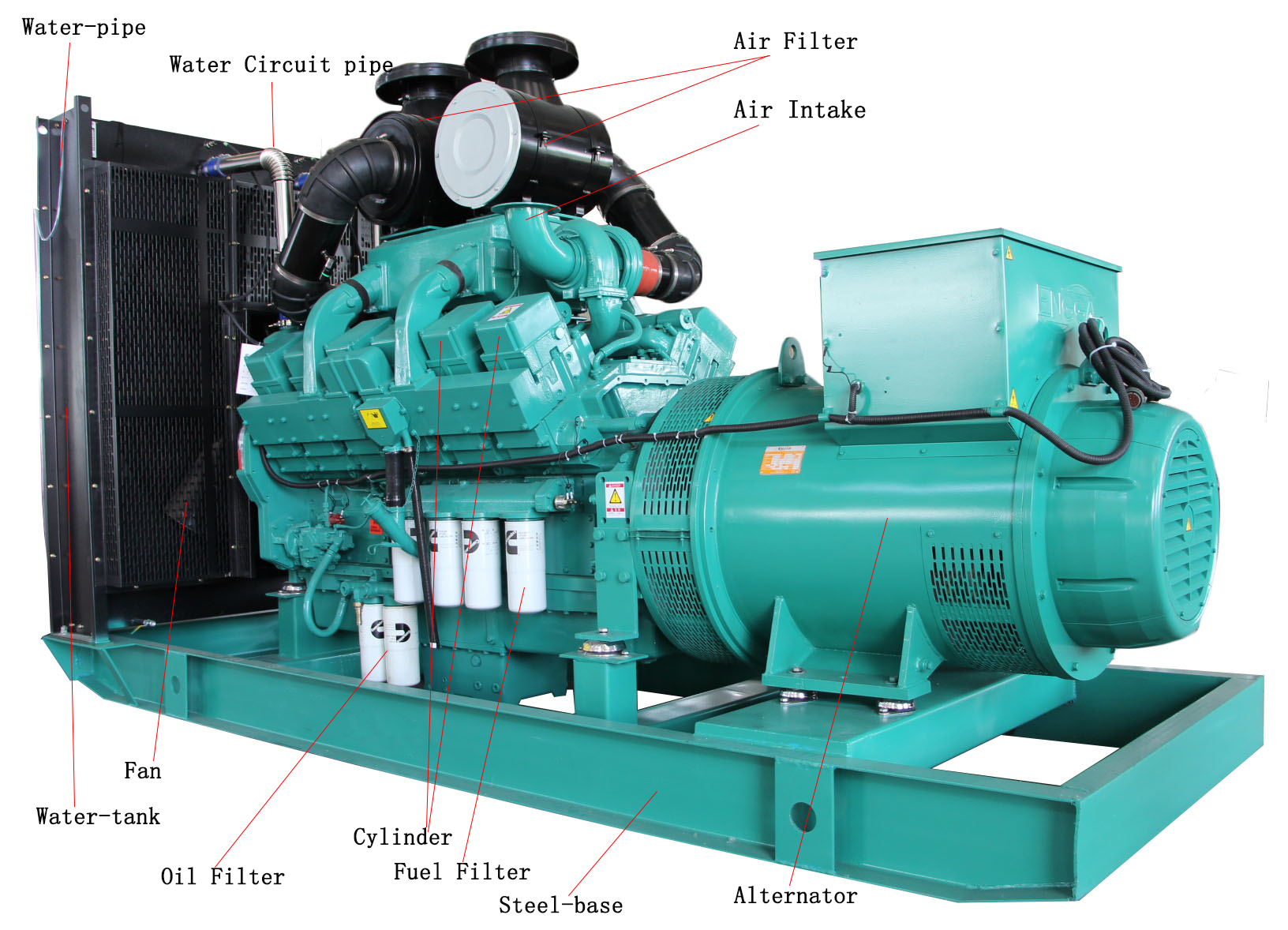 Gen-set Technical Parameters

Gen-set Model: HC1000GF

Steady voltage adjustment rate (%): ≤ ±1

Main/Standby Power: 1250KVA/1388KVA

Voltage fluctuation rate (%): ≤ ±0.5

Power factor: 0.8

Transient voltage adjustment rate (%): +20 ~ -15

Rated output voltage: 400V/230V

Voltage stability time (s ): ≤ 1

Rated output current: 1804A

Frequency fluctuation rate (%): ≤ ±1

Rated frequency: 50HZ

Transient frequency adjustment rate (%): ≤ ±0.5

Rated speed: 1500rpm

Frequency stability time (s ): ≤ 3

Open Dimension: 5120mm*2040mm*2620mm

Waveform distortion rate (%): ≤ 5

Weight: 9210KG

Relative air humidity (%): ≤ 90

Canopy Dimension: 6000mm*2400mm*2800mm

Weight: 11175KG

Engine Technical Parameters

Brand & Origin: CCEC Cummins

Fuel System

100% load: 202g/kw·h

Engine model: KTA50-G3

50% load: 215g/kw·h

Main/Standby Power: 1371KVA/1523KVA

100% load (L): 256.4L/h

Rated speed: 1500rpm

Cooling System

Style: Closed circulating water cooling

Type: 4Stroke.V Type.16Cylinder

Cooled water Capacity: 300L

Start Model: 24VDC electric start

Max water temperature: 104℃

Type of Governor: Electric (E)

Oil System

Oil Capacity: 177L

Bore X Stroke (mm): 159x159

Oil Type: SAE 15W-40

Compression Ratio: 14.5:1

Oil consumption: 4g/kw·h

Displacement (L) : 50.3

Exhaust System

Exhaust Temperature: 525℃

Intake System

Max intake pressure: 6.23kpa

Exhaust capacity: 4011L/s

Air flow rate: 30425L/s

Exhaust back pressure: 10kpa

Alternator Technical Parameters

Brand & Origin: Jiangsu Huachang

Protection class: IP22

Engine model: HC1000-14

Insulation class: H/H

Rated Power: 1250KVA

Efficiency: 0.935

Rated voltage: 400V/230V

Structure: brushless, self-exciting

Output power factor: 0.8

Steady voltage adjustment rate(%): ≤±1

Frequency (HZ) : 50HZ

Voltage regulation model:AVR

Stator winding: 12ends

Connection: Three-phase four wire, Y connection

Waveform: THF<2%

Waveform:THD<3%

Telephone interference factor: TIF<50

Engine & Alternator & Silent box Warranty

The engine of DG sets will be recorded into the Cummins company data center to ensure that the engine can be maintained through the Cummins global warranty system; Besides, the alternator will be handled with special technology to ensure it can be anti-corrosion.anti-moisture.anti-fungus; Thirdly, all sheet mental used for making silent box are anti-corrosion and painted with a two-step electro-coating paint process and the silent box can be lifted in the top surface.. In addition, the radiator is 50℃ copper water tank to adapt to the worse environment.
As we know, the genset include three main parts like Engine.Alternator and Control system.
Firstly, the control system can divide into Four protection control panel.AMF control panel.ATS control panel, like the brain to control start & stop of the Genset. Ofcourse, its funtion is that when the conditions " Low oil pressure.High-temperature.Over-rpm speed.High/Low voltage" appear, the genset will be stopped by the control system;
Secondly, the diesel engine include listed main parts like "Air filter.Fuel filter.Oil filter.water-tank & fan", the three filters should be replaced according the using time of genset to assure the operation; the water-tank & fan are the important of Water-cooling system, the water-tank is 40 degree or 50 degree based on the environment;
Thirdly, the steel base is necessary, general speaking, the genset is made up of many spare parts.
Our Company appearance- Jiangsu Xinghuachang Generator Equipment Co., Ltd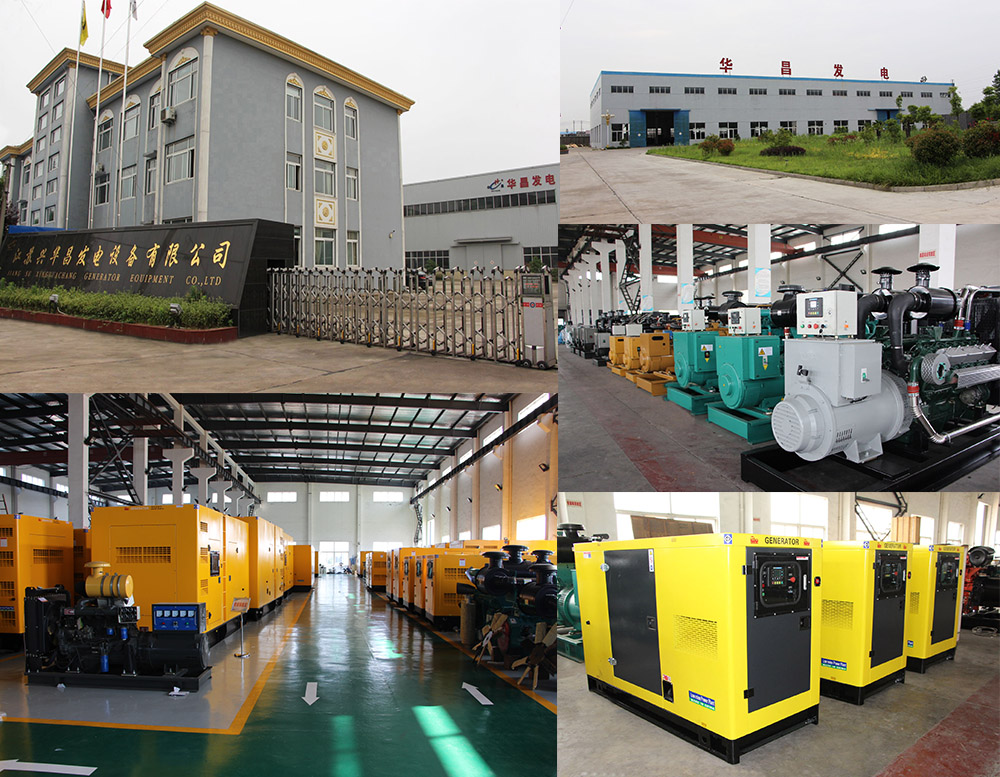 The enclosed documents can show the detailed genset technical parameter & genset open/silent pictures & its noise lever test data. Besides, the after-service and company introduction can let you know our company.
Looking for ideal 1250KVA Cummins Genset Manufacturer & supplier ? We have a wide selection at great prices to help you get creative. All the 1250KVA Power Generator are quality guaranteed. We are China Origin Factory of Cummins Generators For Sale. If you have any question, please feel free to contact us.
Product Categories : Diesel Generator Set > Cummins Diesel Generator Set